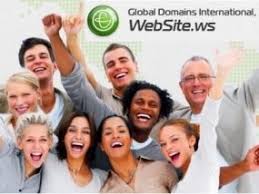 This company is like many other hosting companies with a new twist.  Many another hosting/domain companies offer ".com", ".net" or ".org" websites, Global Domains International decided to sell only ".ws." domains.
I am not sure what the logic behind that is because if you do a Google search for any keyword, how many websites or blogs do you see with a "Mysite.ws." domain name?
It's next to nothing…
You will mostly see ".com" websites or blogs because, for some reason, people trust those domain names more.  Now, a ".com" website won't rank any better than ".WS." to make that clear.
The Affiliate Program
In any network marketing company, there will be the affiliate side of things to make money.  Global Domains International gives you the ability to get paid when you refer a customer into the company or an affiliate.  What I will go over next is the pro's and con's with this company when it comes to the recruiting or residual income side.
One of the best things about Global Domains International is that it's on the cheap side of things when it comes to domain names and hosting.  For $10, you are ready to go with a domain name and hosting.  All of the larger hosting companies charge you way more for the same quality hosting.
The company itself has been very reputable with low complaints and actually has been in business for a few years.
Now let's talk about the cons…
The great thing about Global Domains International is the cost to join is cheap.  However, this puts a toll on affiliate commissions.  You will earn $1 per sign up and their compensation plan pays several levels down.  To get crazy results, you will have to get thousands of people in and for a newbie, that's just not feasible.
The other issue this company has is its affiliate training.  It's just the bare bones to get you going but it's not enough to get you serious results.  There might be some leaders in the company that have their own training which is a MUST if you're new.
I just wanted to be completely honest with you in my Global Domains International Review!
This is what the compensation plan looks like:
All over the internet, you will either have people calling this a big scam and you will have people raving about the company and how great it is so…who do you believe?
To be honest with you, Global Domains International is NOT a scam and here is why:
The company has been in business since 2000 and if this was a legitimate scam, the FTC would have shut it down by now.
The people that call it a scam are the people who jump company to company blaming everyone but themselves for their failures.  They believe by just jumping ship and going into another "deal" will give them the potential to possibly do better.
It's the lottery mentality that keeps those people where they are!
To be successful in any network marketing company, you need the skill sets and knowledge to help you become successful.  I always say doctors go to university and med school for 10 years to get the skill set's they need to be successful in their field.